Central Board of Film Certification asked Mardaani makers to remove the entire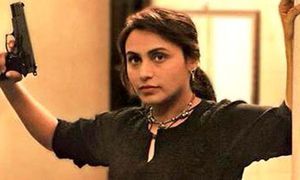 Mardaani is the first non romantic movie produced by Aditya Chopra. The USP of Yash Raj Productions has always been romantic films. This is for the very first time the Bollywood scion is venturing into serious films. Mardaani is based child trafficking. It depicts the hard-hitting reality of child trafficking. Give the serious number of atrocious incidents reported every day against women, the censor board seems to have become sensitive over the usage of expletives and rape scenes. From a filmmaker's point of view, making movies based on true stories involving mayhem and trauma cannot be depicted in a very fluffy fashion. The trauma children go through at a very young age and their helplessness needs to illustrate very realistically.
Filmmakers of Mardaani are asked to soften the blow and cut the rape scenes and beep the expletive as they consider it unsuitable for Indian audience. Mardaani stars Rani Mukerji in the main lead. She plays the senior cop in the crime department. Her role in this movie is to protect the little girl from the clutches of barbarians involved in the flesh trade.
Many movies have been made realistically on child trafficking. These movies show the dreaded side of flesh trade that the world is unaware of. The poignant lives of little girls whose innocence gets jinxed at a very young age. Rani seems ideal for the role of a cop. She has never played this role before, despite playing many bold characters. Hoping she will add the required amount of tenacity, grit, and intensity to the character of a cop.The
censor board also tried to scrape the word Haraamzada as they consider it to be a cuss word. The board is probably trying its best to avoid any scenes that depict rape. This, however, goes against the whole ideas of showing a realistic movie.
This movie seems to have lot of potential for Rani Mukerji. If this movie meet the expectations of the audience and it has the possibility of winning an award too. Most of the Aditya Chopra movies are well outlined. This is for the first time they are coming together as a husband wife duo for a movie project. Rani's long standing rumor about her relation with Aditya Chopra has finally rested when she twitted on about her marriage.
This film has a very minor star cast. Jisshu Sengupta plays the role of Rani's husband. Jisshu is a Bengali film actor who has done a few Bollywood films including the Last Lear starring Amitabh Bachchan and directed by Rituparno Ghosh. He is the son of Bengali actor Ujjwal Sengupta. This 37 year old actor is from Kolkata, and has done minor roles in Bollywood movies like Anurag Basu's Barfi. This is the first time he is starring opposite Rani Mukerji. Priyanka Sharma and a newcomer Tahir Basin also star in this movie. This seems an experiment not only with a new genre but also new comers.