The first trailer of Parineeti Chopra and Aditya Roy Kapur starrer Daawat-e-Ishq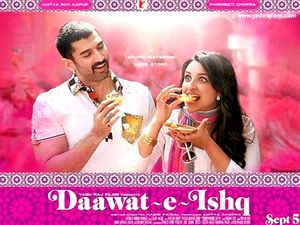 Romance will never go out of fashion. Especially when it comes to the old school, touchy feely, sher-o-shayari types romance. It is exactly what people are going to get with Daawat E Ishq.
Being produced by Yashraj Films, a banner famous for portraying the best love stories in the country, Daawat E ishq is one of the most eagerly awaited films of 2014. It has an ensemble star cast. While on the one hand, it has seasoned actors like Anupam Kher, and Kirron Kher, it also stars promising young actors like, Aditya Roy Kapoor and Parineeti Chopra. In addition to this, the film marks the big screen debut of TV actor Karan Wahi.
Recently, the first trailer of Daawat E Ishq was released. And we must tell you, we liked what we saw. The movie is a love story of a Hyderabadi girl, played by Parineeti and a Lucknowi boy, played by Aditya. They fall In love over a whole lot of food. Yes, literally food. This romantic story is set against the backdrop of the dowry system. This movie shows what repercussions the dowry system can have over the lives of people. This social evil is still rampant in India, especially in smaller towns. This movie highlights the problem, and also its potential solution.
The movie is directed by Habib Faisal, the director who previously gave us Ishaqzaade. So we know that the director knows the pulse of a love story really well. Also, most of Faisal's stories are based in smaller towns. And this one is no exception. You can expect a grounded, earthy romance.
Aditya Roy Kapoor and Parineeti Chopra play the star crossed lovers in this love story. It must have been difficult for Aditya to get into the skin of a Lucknowi local, as he has mostly stayed in Mumbai in his life. But we have a feeling Aditya would still be able to pull it off convincingly.
And the effervescent Parineeti is always a delight to watch. This fresh pairing makes this movie a must watch.
The music is given by duo- Sajid Wajid. So you can definitely expect them to churn out chartbusters galore. As they have done with all of their previous films, the music will be hummable and foot tapping for sure.
Conspicuous by his absence from the first trailer is Karan Wahi. The TV actor was present for the films mahurat and also the completion party, so it's a given fact that he is playing a pivotal role in the film. Maybe the makers want to throw him in as a surprise for those who watch the film. His female fan following will be more than glad at his big screen appearance.
The film captures the essence of Lucknow and Hyderabad, and also how much the people of India love to eat. The audiences are surely going to lap up this mouth watering love story.
Daawat-E-Ishq releases on 5th September.

Daawat-e-Ishq Trailer Review