Mukesh Ambani and Shekhar Kapur applaud Rani Mukerji's Mardaani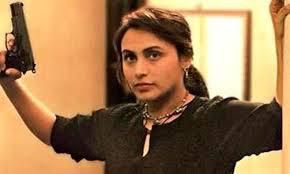 Everybody is going gaga about Rani Mukerji's role in Mardaani. Rani Mukerji is one of the most seasoned and established actors of Bollywood. With a stupendous performance in every movie, she is now doing a crime drama film with the home production, Yash Raj films, Mardaani. Posters of this movie depict Rani wearing a black Pathan dress, standing resolutely with a gun in her hand. Another poster of this movie has a retro appeal. She is seen in Khaki police uniform, donning a serious look. A few scenes in this movie are censored as they depict the hard-hitting reality of child trafficking.

Mukesh Ambani, the Reliance Tycoon, has appreciated Rani Mukerji in this film. Celebrities and scions of many industries are already raving about this movie, already. Never did a movie garner such attention before its release. Being appreciated from people outside the industry is one thing. The movie makers say you need to have a strong heart to watch this film. A few scenes can be as disturbing as the reality. But that's the point. Themes such as these cannot be covered up with kid glove treatment. Yash Raj Films surprising bold step based on a true story of a female cop who has saved the lives of many innocent children from the clutches of such atrocities.

Shekar Kapur, who is usually media shy, also has words of appreciation for this movie. He has never been so appreciative about any movie in the recent times. Looks like everybody within and outside the industry is already supportive of this film and is expecting a positive outcome. This is the second film of Rani with director, Pradeep Sarkar.

For the first time, a movie is gaining such immense response from celebrities, and prominent people from various industries. The name, Shivani Shivaji Roy, is going to iconic in the history of Bollywood, from the looks of it. With a small star cast, this movie is set to make it mark in a different genre with a strong women oriented theme. Shekar Kapur's Hollywood movies have won academy nominations. Such a great director has seen potential in this movie Mardaani. If this movie lives up to the expectation of the audience, Rani Mukerji will resurrect as an actor after a long hiatus. Rani Mukerji's new look for this movie is also appreciated.

Jisshu Sengupta, who is a well-known Bengali actor, will play the role of her husband in this movie. It is reported that the censor board has deleted a few hard hitting dialogues having cuss words, to make it for family viewing. This movie depicts, the bravery and determination of a senior women cop who is hell bent on searching the missing teenage child, and protect her from the big bad world of human trafficking. Many orphans from the ghettos are made to do outrageous things that we are not aware of. This movie is going to put forth the experiences and atrocities faced as it is, with the intent to show the reality to the audience.