Music of It's Entertainment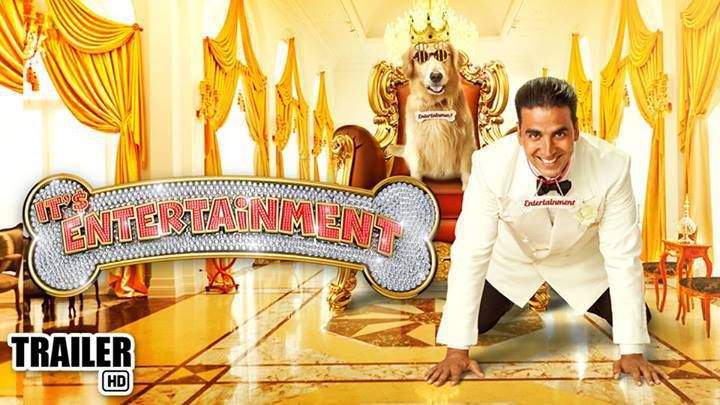 Its Entertainment is an upcoming comedy film starring Akshay Kumar, Tamannah Bhatia, Johnny Lever, Krushna Abhishek and an adorable Golden Retriever named Junior. The owner of Junior leaves behind his assets in the name of the dog. The movie basically revolves around how Akshay Kumar and Krushna Abhishek try to get hold of his property unlawfully and the movie unfolds. Veteran actors like Mithun Chakraborty, Prakash Raj also star in the movie in prominent roles. This movie promises to be a hardcore entertainer. The movie, produced by Ramesh .S. Taurani, head honcho of Tips Films and directed by Farhad-Sajid director duo. The movie is expected to hit the screens by 8 August 2014 in India and USA.
It is reported that the dog received better retreatment than Akshay Kumar itself. Akshay Kumar has no body doubles while Junior has 6. He was only called for close up shots. He had 4 to 5 caretakers to look after all his needs. Isn't that really lucky? Junior received the best treatment ever. Bollywood has witnessed many dog oriented movies like you few examples of our favorite Bollywood dog films: Teri Meherbaniyan: Moti, the dog is the only eye witnesses of his master Jackie Shroff's brutal murder and how he seeks revenge for his masters murder.
The trailer of the movie is really funny and gives the audience an overall idea of the storyline of the movie. The movie revolves around a rich Golden Retriever and how the pooch tries to mess with Akshay Kumar.
The movie as stars Johnny Lever one of the finest comedians of Bollywood. The movie itself is named after the character name of the pooch. Along with the trailers the music of the movie is also doing well.
Tera Naam Doon, Veerey Di weeding, Johnny Jhonny are doing realy well on the charts. Veerey Di Wedding's lyrics are very catchy it is sung by Mika Singh and the music has composed by Sachin Jigar. Tera Naam Doon is title song of the movie Its Entertainment. The tract was released on 23rd June and sung by Atif Aslam. The song Johnny Johnny is also winning the hearts of many the song features Akshay in a huge party dancing between many beautiful ladies. After his role as an officer in his recent movie Holiday Akshay is seen in an all new avatar in this dance no. The lyrics of the song are very peppy and written by Mayur Puri, 'Johnny Johnny', borrowed from the famous nursery rhyme and sung by Jigar, Priya Panchal & Madhav Krishna.
Krushna Abhishek from Bol Bachchan is also seen dancing in the movie video. The song has everything that could make it the new party anthem. So let's wait and watch what the movie and the music has to offer us. The movie is releasing on 8th August 2014.