Second track - "dukki tikki" from Emraan Hashmi's RajaNatwarlal will release on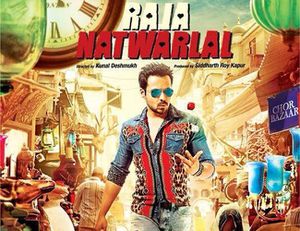 Emraan Hashmi known as the serial kisser of Bollywood will now be seen in the film Raja Natwarlal in this forthcoming film directed by Kunal Deshmukh who also directed the 'Jannat' series fame. The movie narrates the story of a small-time conman who goes all wild to step into the big game of scams. The movie promises to be a complete masala entertainer. Here's good news to Emraan fans. The Second Track Dukki Tikki From Emraan Hashmi's RajaNatwarlal Will Release On The 1st Of August which is a street Dance Number Sing by Mika Singh. This song has Bollywood peppiness to it.
Trailer of Emraan Hashmi's latest film Raja Natwarlal is released, and the mini promo promises an exciting movie full of masala, twists and turns. The trailer bagged raving and striking reviews crossing the border of 1 million..Now that's incredibly astonishing! The dashing and impressive 'serial kisser', who will be on the big screen after a long lapse, will now be seen playing a small-time crook and a absconder in this movie who comes up with a plan to con a business tycoon. This time Emraan Khan will take his son to witness the movie on bigs creen, it will be his first time.
The film casts Emraan Hashmi in the lead role along with debutant Pakistani beauty Humaima Malik, Paresh Rawal as Emraan's godfather, Kay Kay Menon as an overhanging antagonist and Deepak Tijori. Producer of the film Siddharth Roy Kapoor stated, "It's a quintessential Emraan Hashmi film and you would enjoy it tremendously if you are an Emraan Hashmi fan." Emraan Khan although he is playing a conman, he chooses to call his role in the movie in a rather colloquial manner, a fraud or a 'charso bees'. Emraan calls himself a fraud. A conman would be too elitist or upscale a word to describe the character that he plays. The movie is very exciting, fun and has lots of suspense and great thrills. It's loaded with con games, twists and turns and of course how can we miss out the kiss.
Romance, fun, drama and comedy are loaded in this film and to raise the bar it has the very sexy Humaima Malik and the dashing Emraan Hashmi. All are excited to see this new pair on silver screen and the temperature of their hot romance. This movie is surely doing the round and is totally in buzz. The trailer crossed the mark of 1 million, which says it all; the movie is going to rock the box office. This film is a complete package for Emraan's fans as they will get to see his bad boy image, humor and most availingly what he does the best- Kiss.
This movie also stars Paresh Rawal, the Pakistani beauty Humaima Malik, Deepak Tijori and Kay Kay Menon and is all set to hit screens on 29th August, 2014. We hope this film sets a milestone in Emraan career and Humaima, setting her foot in Bollywood.