Why Dimple Kapadia wore a prosthetic bum throughout the shoot of Finding Fanny?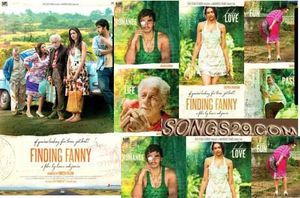 Finding Fanny has been the talk of the town since its initial theatrical release as it seems to be a film that will set the laughter in motion and be a comedy film like no other .
The film is directed by Homi Adajania and is an English language film based in Goa and has a star studded cast featuring in lead roles. This star cast comprises of Deepika Padukone , Arjun Kapoor , Dimple Kapadia , Naseerudin Shah and Pankaj Kapoor .
The movie has attracted a lot of attention towards it with the settings of Goa and the uniqueness of each character present . However , one big attraction to say the least , is the big butt that Dimple Kapadia has been seen carrying behind her throughout the film.
The veteran actress has played the role of a fun loving Goan middle aged aunty , with a certain sense of fun loving sensuality being part of her personality . The Director wanted Dimple to look different in the movie while bringing out the comic element thoroughly and hence decided to add a prosthetic bum to the actress's get up . As seen in the trailers , Dimple is seen wearing the prosthetic bum throughout the film and carrying it with a style that is both funny and stylish at the same time . The bum has been the central part of Dimple's role in the Finding Fanny movie , and obviously the one most visible . The actress did not shy back from such a get up and enjoyed the challenge of making a prosthetic bum look good on a woman heading towards the old age.

The director went with the idea of having Dimple wear this big bum was because he wanted to mess with her beautiful figure and also trusted the veteran to pull it off with humour and ease . Surprisingly , various prosthetic bums were tried out on the actress and the one which looked to be the funniest and biggest was selected immediately . The director's wife Anaita Shroff Adajania showed her support for her husbands decision and claimed that this was done to make the movie even more comical and there were no explicit reasons behind it . Dimple had to carry the fake bum throughout the film and at times went through pain and slight injuries because of it's heavy weight and size .

However , the actress successfully pulled it off through the entire film and also flaunted it at all times which certainly added spice to the films trailer and has gotten many fans waiting for the film . Finding Fanny Movie Reviews is a romantic comedy adventure which sees the five stars head out on a journey to find Fanny and understand what love , friendship and togetherness is all about .

The film releases on 12th September , 2014 and the big bum surely promises a good laugh for all the people who await it .