Hrithik Roshan To Act In Step Up 6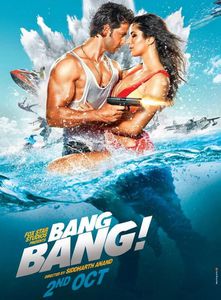 Move aside, Mad About Dance (MAD). Its Step Up time! Days before the latest installation of the Step Up series, 'Step Up All In' releases in India there are already rumors of the Indian dancing superstar Hrithik Roshan being approached to play one of the leads in the next project of the franchise.

Hrithik is really famous in the west. Hrithik's popularity in Hollywood is evident with Twilight diva Kristen Stewart claiming that she is in love with our own Greek God. She even wants to have his kids and we hear that the lead lady of the current installation of Step Up Briana Evigan is also quite a fan. And who can blame them? It is really difficult for all women to resist the charms of Hrithik, who is perfection personified. That's not all, Twitter fans of the franchise loved the idea of having Hrithik in the 6th installment. Many people have taken to the micro blogging site to veto the idea of Hrithik being a part of the Step Up franchise.

Hrithik is currently gearing up for the release of his next action flick, 'Bang Bang'. Interestingly, Bang Bang also features some heavy duty dancing on Hrithik's part. It is now a given, that if it's a Hrithik movie, it has to feature a mind boggling dance sequence with Harithik in it. Even 'Agneepath', a rather serious film, which had Hrithik play an intense, drak, brooding character, had Hrithik dancing in a mini dance sequence. So, Hrithik making his Hollywood comeback, after the debacle of 'Kites' (2010), with a dance film, is a win-win situation for both the parties. His fans, however, will be scared to lose him to Hollywood. They as it is complain about him not acting in enough movies to stiate their thirst to see him, he will be even harder to come by, once he packs his bags, and leaves for L.A., permanently.

Strategically too, this is a wise move the franchise has always been a huge money spinner in international markets, notably India, along with the US. The franchise has also always used debutants to create stars rather than use well known faces. Signing Hrithik would serve two purposes- of dance and acting talent, what with a good dose of Indian fan following added to the mix.

Also, it will be interesting to see how Hrithik copes with the western dance styles, like bee-boying, hip hop, and locking popping. So far, we have only seen him groove to Bollywood beats. This will be an interesting change of pace for him. And knowing Hrithik, and his levels of hard work and dedication, the transition will be seamless.

All we can say is that we have our fingers crossed and we would love to see Hrithik Roshan dazzle and showcase his moves in Hollywood. Here's hoping that Hrithik too is willing to STEP UP to the challenge! He is all set to surprise, and take Hollywood by storm. Fingers crossed, and waiting for this moment to arrive! But for now, we will just watch Step Up 5, and dream about Hrithik.