Katrina Kaif to Become a Single Mother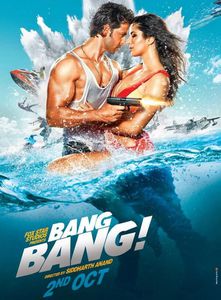 Do not worry , the title does not suggest that she carries a baby inside her and it certainly does not mean that she and Ranbir Kapoor have split up . What the title refers to , is a role she will be carrying in reel life for a new movie which she very soon might agree to do.

This can be a career refining and enhancing phase in Katrina Kaif's life as an actress . The role was brought forward to her as an offer by director Sujoy Ghosh , who is planning to make a woman oriented film and prefers Katrina to play the lead role which will be entirely woman centric. Sujoy Ghosh is determined to make another blockbuster which is woman driven , much like his last film Kahaani which starred Vidya Balan and revolved around her . Kahaani gave him huge success and a reputation among the audiences and the industry . It is obvious that the issue of feminism and scripts revolving around women and their abilities are topics which are most likely to reach the audiences with an impact and a message . Making a woman the protagonist , brings about an unique factor in the movie and audiences are intrigued and also enlightened by the power and abilities of the female gender .
Katrina was not Sujoy's first choice as an actress for the movie and infact neither was she the second option he went for . Only after being rejected by Kangana Ranaut and Vidya Balan , did Sujoy approach Katrina in desperate times . Katrina has not hurried into the decision and after listening to the scripts , is still pondering whether to accept Sujoy's offer or no . However , it is understood that Katrina loved the script and might very soon agree to the project .

The movie which is yet untitled , is reportedly based on a best selling Japanese novel titled the Devotion of Suspect X by author Keigo Higashino . Katrina Kaif , if accepts the role , will be seen playing the role of a single mother who accidentally kills her own husband . The role is supposedly very challenging and if Katrina Kaif carries it out well , her acting career will escalate massively . Katrina has taken up many challenging roles in her career in earlier movies such as Rajneeti , Mere brother ki Dulhan , Race and most recently Ek Tha Tiger . Despite starring along side star casts and doing well in the box office , her performances have not been of stellar quality and everyone has started to expect much more of her . Being a feminist in real life too , this role of a single mother while being the heart of the film should probably bring out the best in her.

She will be seen coming out in another action packed movie along side Hritikh Roshan on 2nd October . The movie is titled Bang Bang and directed by Siddharth Anand.