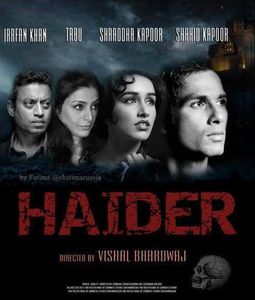 Bollywood's chocolate boy Shahid Kapoor has been missing from the lime light for quite some time but soon he will be back with a couple of movie. Shahid Kapoor has been busy with his upcoming movies like Haider , Kismat Konnection 2, Shaandar, Milan Takies, Pocket Maar, A Slumdog Millionaire Goes Dancing, and Heer And Ranjha. Shahid apart from acting is also known for his acting and twinkling smile. His bad boy mischievous grin has stolen many hearts in the country. He was last seen in his comedy action movie R Rajkumar where he was engaged in intense action and romance. Now he will be seen again in a few movies soon. The movie Haider is the one to release first.

When the country would be watching Shahid Kapoor's film Haider, Kashmir will be missing out this beautiful Bollywood adaptation of the Shakespeare's Hamlet as no cinema is open or functional in the restive Valley. Director Vishal Bhardwaj's majorly-hyped film Haider will not be released in Kashmir due to the militants over there who forced all the cinema halls to shut down in 1989 at the onset of militancy. Film Haider was completely set and shot in Kashmir. But the irony is that the state will not have the luxury to watch the movie in the theaters. All the cinema halls in Kashmir have been closed. Some of them are housing paramilitary force camps, some are being rebuilt as shopping malls and some have been converted into hospitals. Some of the halls have been burnt and only their four damaged walls stand tall. This adaptation of William Shakespeare's tragedy 'Hamlet', directed by director Vishal Bhardwaj, is set against the unrest in the Kashmir valley and revolves around a character who wants to avenge his father's death. "For the shoot, I was Haider. And now, Haider is me," said Shahid. "Apart from other things, the 33-year-old actor even shaved off his head to get under the skin of the character. "I haven't regretted it for a single day," he added.

Haider is an upcoming Indian drama film directed by Vishal Bhardwaj, and written by Basharat Peer and Bhardwaj. The film casts Shahid Kapoor and Tabu ,Shraddha Kapoor and Kay Kay Menon. The film Haider is the third installment of Bhardwaj's Shakespeare trilogy after Maqbool in 2003 and Omkara in 2006. The film Haider will release on 2 October 2014. This movie has impressed the masses with its trailer and Shahid Kapoor's new look. From revenge, love to rebel, the film Haider gives you all. There is a buzz about a sizzling hot kissing scene in the movie between the two. Tabu plays the character of a strong headed woman and Shahid Kapoor's step mother. A large part of shooting of the film was done in Srinagar in Kashmir. Director Bhardwaj assured Omar Abdullah, J&K Chief Minister that the film would have nothing to harm the local sensibilities and the political aspirations. The shooting of this film was completed by 24 February 2014.