Mary Kom angry after postponement of Asian Games trial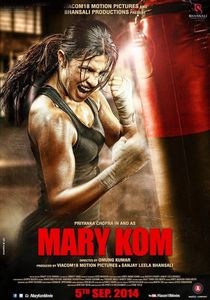 Mary Kom is in the news again nowadays , this time not because of the biopic based on her life but instead because of issues related to her field of expertise , Boxing .
Mary Kom was seen frustrated and angry recently , because of events that are bringing a negative aspect to the scope of the sport of boxing in India and its boxers . There was a last minute drastic change of Schedule in the Boxing trals for the Asian Games and this left Mary Kom fuming and she termed this last minute change as 'highly' unprofessional on the part of the organizers . The IOA Ad-hoc committee , which manages the boxing affairs , took in the request of the Commonwealth games medalists to postpone the trials and did so without informing ll of the boxers in time .
Mary , the Olympic bronze medal winner , was straight forward with the fact that postponement had a demoralizing effect on her as she reached Patiala a couple of days before the trials in order to get prepared to give her best shot .

"I was in the training camp for months, leaving my little children in Manipur. I was raring to have a go but now this has left me demoralised and confused. I don't understand why the Ad-hoc Committee did not inform us earlier," Mary, the five-time World champion said.While Mary was in Patiala, the core group of women boxers from Delhi were already on the Patiala-bound bus in the morning but decided to return mid-way after learning about the schedule change.

While all this happening on one side , Mary is now also getting frustrated by the amount of focus the news is paying on her because of the release of Mary Kom the movie around the corner . It is hampering her focus from boxing and the news should have a limit and not over emphasize on personal issues , Mary believes. Along with her biopic also coming in row for next month and that movie named Mary Kom in which priyanka chopra will be Mary Kom.

"I have a lot of respect for (CWG) medal winners but we should have been informed in time. It's not good and highly unprofessional. When one is mentally prepared for the trials and if it does not take place, it's not ideal situation for a boxer," the anger in her voice was understandable and evident . "My husband has also joined me today and now we are sitting here in Patiala without knowing when the trails would happen. I don't know I should go back to Delhi or stay here. There is no communication on the next date," she said.

Such an event shows how the area of sports is not taken as an important part of India's present and future . Apart from Cricket , no other sport is highlighted and respected by the authorities and nothing seems to improve with each passing day and the growth of such events . Atleast a sport with Olympic medal winning potentialists , should be handled more responsibly .