Strong and fearless Rani Mukerji in Mardaani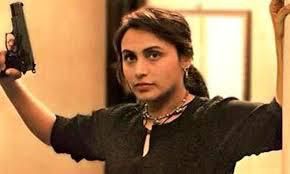 The upcoming release 'Mardaani' is all set to take you on a action packed adventure with a cause. This film stars Rani Mukerji in the lead role playing the character of a cop. Her character is that of a fearless and headstrong cop that will stop at nothing to take away the evil issue of female trafficking. This film focuses on taking the audience through an experience that shows them the problems caused by female trafficking and encouraging us to fight against it in whatever small way possible.

A lot of hype has been created about Rani's character in upcoming Mardaani movie. We have never seen Rani play such a character before. In the poster we can see a fearless Rani holding up a gun ready to take down anyone who comes in her way. Her expression in this poster says it all. The actress performed many action sequences in this film all by herself. For this she required dedicated training. For one particular sequence, Rani had an injured toe which was bleeding profusely. Rani still carried on with her scene and delivered a perfect shot. The actress was always known for taking up daring roles in her career and so this is yet another addition to her list of performances.

Rani has been away from the limelight since a long time and this film is bound to get her attention. The actress recently got married to Aditya Chopra in a very exclusive ceremony in Italy. This celebration of their wedding was only attended by close friends and family. At an interview, the actress expressed that it was her husband Aditya's decision to tie the knot away from the glare of the media as he wanted this to be private and not catch the attention of shutterbugs.
Rani's look in Mardaani film is very simple and minimalistic. In the poster of this film we see her wearing a plain black kurti with pants. Her make up in this look is very minimal and does complete justice to her character in the film. Rani seems very excited about this role and also sad that she was proud to be a part of a film that supports the eradication of a grave social issue and enlightens the society about its existence. The filmmakers have sure put in sincere efforts into this project and intend to give us quality entertainment with a cause.

Mardaani also received special support from the crime branch that was very happy to know that Indian crime branch is taking up such a noble initiative which will encourage people to fight crime. Rani said in an interview that she gives acting her priority and will always stay dedicated to giving her best in her performances in films. The actress chose to keep her maiden surname as she felt that Rani Chopra wouldn't appeal to her fans. We must say that Rani has always remained dedicated towards her roles and we hope that her role as a cop in this film achieves a lot of success.