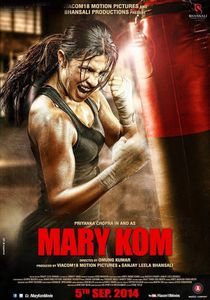 Boxer Mary Kom is a shining legend in Manipur and India. Yet the movie made on her life Mary Kom in which actress Priyanka Chopra is playing her role is unlikely to be screened in Manipur her home state where the militants over there have banned the use of Hindi, especially Hindi movies. The makers "Mary Kom" are optimistic and determined about its screening in Manipur and have been in touch with the state government. But, still there has been no official word or announcement on the matter. "We are planning to screen it in Manipur. So, we are in touch with the Manipur government," said Neerav Tomar, chief executive officer and managing director of IOS Sports and Entertainment.

The biopic of the female boxer MC Mary Kom has been doing the buzz lately. The Olympic bronze medalist has been an inspiration to the world of women power and dignity. She stunned everybody with her game, struggle and victory in the Olympic 2012. She is a five-time World Boxing champion, and the only woman boxer to have won a medal in each one of the six world championships. Her achievement also amazed director Omang Kumar and Bollywood's diva Priyanka Chopra to make a biopic on the boxer's life starring Piggie Chops in the lead role.

The trailer of the biopic titled movie Mary Kom is finally out. It is directed by Omung Kumar, produced by Sanjay Leela Bhansali and starring Priyanka. The film Mary Kom is to have its world premiere at Toronto International Film Festival. Priyanka Chopra looks pretty convincing and impressive as a boxer. She doesn't look Manipuri but has almost perfected the Manipuri accent which is really complimenting. The first teaser of this movie was released on Priyanka's birthday on Friday and people are gone bananas over it. It scored storming reviews all in one day.

Ajit Andhare, COO Viacom 18, seemed over whelmed with the response and quoting his happiness he said, "We're thrilled with the astounding response to the poster and teaser which we had titled 'Mary Kom Punch' these have set us up very well for the trailer, which will be out later this week. We've titled the trailer 'Mary Kom knock-out'". The director also seemed very pleased and stated "After a long time there has been a frenzy of this sort surrounding the release of a poster. It felt good to hear all the fabulous comments. We had to live up to people's expectations with the teaser also. I think we succeeded in doing so. Now we have the trailer coming up. I am very excited. It's been a long wait for me. I can finally showcase my work to the world." Well yes, the poster is really striking and bold. Priyanka looks astonishingly stormy, fierce and tempestuous. She remarkably resembles the boxer. The color of the poster, her expressions and not to forget Priyanka's cuts and pumped up biceps…Totally Striking.

Priyanka Chopra has been seen in versatile roles from an undercover cop to a mentally challenged girl, she has performed magnificently. Playing the character of MC Mary Kom demanded an exhausting and rigorous training and Priyanka pulled that off with dedication. She was trained by Samir Jaura, who is also training Rani Mukerjee for Mardani and had trained Farhan Akhtar for Bhaag Milka Bhaag. The film casts Priyanka Chopra, Danny Denzongpa, and Zachary Coffin. Sanjay Leela Bhansali who is also inspired by Mary KOM said, "Mary Kom has made India proud. I was moved by her story.
She is a mother of two, has been through so many struggles, has tremendous spirit and a sense of living and dignity and is now a World Champion. She has what it takes to make a great champion. An Indian woman boxer is rare. It will be an exciting film to produce and I am very happy to do it." Boxer Mary Kom who is fond of the actress Priyanka Chopra has given her a few tips on the film, which did seemed to have helped the actress go through her journey and fit into the character of playing a boxer.
The movie is scheduled to come out on 2nd October, 2014 read more on clapsnslaps about mary kom movie